Dell PowerVault MD1200 MD3200 MD3200i SAS & iSCSI SAN-Array
Extra informatie
ServerHome.nl Garantie
Dit product wordt geleverd met standaard ServerHome.nl garantie
Product Conditie
Refurbished hardware, gebruikt en getest
Model
MD1200, MD3200, MD3200i
Dell part nr.
0NVMH, 00NVMH, U648K, 0U648K
Harddisks Maximum QTy
12
Harddisk Formfactor
3.5"
Links, informatie, enz...

RAID

Ondersteuning voor RAID-niveaus 0, 1, 10, 5 en 6

Opslag

Harde schijven

MD3220i: tot vierentwintig (24) 6 cm (2,5") SAS-, Nearline SAS- en SSD-harde schijven

Prestaties en capaciteit van een 6 cm (2,5") harde schijf

SAS-harde schijven (15.000 rpm) zijn verkrijgbaar met een capaciteit van 73 GB en 146 GB
SAS-harde schijven (10.000 rpm) zijn verkrijgbaar met een capaciteit van 146 GB en 300 GB
Nearline SAS-harde schijven (7.200 rpm) zijn verkrijgbaar met een capaciteit van 500 GB
Solid State-harde schijf (SSD) is verkrijgbaar met een capaciteit van 149 GB (verkrijgbaar in een 9 cm (3,5") caddy voor harde schijven)


Connectiviteit

Acht 1 Gb Ethernet-poorten (vier per controller)

Beheer

MD Storage Manager van de volgende generatie

Connectors op het achterpaneel

Vier RJ-45 1 Gb Ethernet voor hostconnectiviteit, één 6 Gb SAS voor schijfuitbreiding, één RJ-45 1Gb Ethernet voor extern beheer; één PS/2 / serieel voor onderhoud

LED-indicatielampjes

Voorpaneel:
Eén led-indicator met twee kleuren voor de status van het systeem, één led-indicator met één kleur voor de stroom, één led-indicator die in dit systeem niet wordt gebruikt

Caddy voor harde schijven:
Eén led-indicator met één kleur voor activiteit, één led-indicator met twee kleuren per harde schijf voor de status

Opslagcontroller:
Eén led-indicator met één kleur voor de voeding, één led-indicator met één kleur voor controllerfouten, één led-indicator met één kleur ter identificatie van de controller, één led-indicator met één kleur voor de cacheactiviteit, één led-indicator met één kleur voor batterijfouten

Voedings-/koelingsventilatormodule:
Drie led-indicators met één kleur voor de status van de wisselstroom, de status van de gelijkstroom en fouten in de voeding/koelventilator

Voeding

Redundant Powersuply

Vermogen:
600 W piekuitvoer

Warmteafgifte (max.):
150 W

Ingangsspanning:
90 tot 264 V wisselstroom

Frequentiebereik:
47 tot 63 Hz

Maximale ingangsstroom bij nominaal vermogen:
55 A voor maximaal 10 ms, 25 A voor 10-150 ms

Beschikbaar vermogen voor harde schijven:
9 cm (3,5") schijf: 25 W
6 cm (2,5") schijf: 12 W

Chassis

Afmetingen chassis (hoogte x breedte x diepte)

MD3200:
8,68 x 44,63 x 56,1 cm (3,42" x 17,57" x 22,09")

MD3220:
8,68 x 44,63 x 50,8 cm (3,42" x 17,57" x 20")

Gewicht

MD3200:
29,3 kg (64,59 lbs.) (maximale configuratie)

MD3220:
24,2 kg (53,35 lbs.) (maximale configuratie)



Omgevingscondities, in bedrijf

Temperatuur:
Bij gebruik: 10 tot 35°C (50 tot 95°F) met een maximale stijging of daling van de temperatuur van 10°C per uur

Relatieve vochtigheid:
Bij gebruik: 20% tot 80% (niet-condenserend) met een maximale daling of stijging van de vochtigheid van 10% per uur

Hoogte:
Bij gebruik: -16 tot 3.048 m (-50 tot 10.000 ft)

Opmerking: voor hoogten boven de 2.950 feet geldt voor de maximale bedrijfstemperatuur de reductiefactor 1ºF/550 ft.

Besturingssysteem

Microsoft® Windows® , Linux, VMware® , Microsoft Hyper-V™
Details
Consolidatie = Efficiëntie
Verminder de vereiste inspanningen voor de opslag en het beheer van uw gegevens. De MD3200i/MD3220i-arrays vormen de nieuwe standaard voor prestaties, flexibiliteit en schaalbaarheid.
Bied ondersteuning voor maximaal 32 fysieke servers indien verbonden met een of meer 1 Gb Ethernet-switches.
Kan geschaald worden uitgebreid tot een opslagcapaciteit van 96 harde schijven met behulp van PowerVault MD1200- en/of MD1220-behuizingen.
Reduceer de complexiteit van het beheer met één beheerinterface en één systeem waarvan back-ups moet worden gemaakt.
Opslaggebruik kan nu eenvoudig worden verbeterd door opslagbronnen in een pool te consolideren. Verhoog de beschikbaarheid met redundante hardware en een gestroomlijnd beheer- en back-upproces.

iSCSI-opslag is ideaal voor virtuele serveromgevingen
Voor de ondersteuning van uw virtuele serveromgeving bieden de MD3200i/MD3220i-arrays verschillende voordelen ten opzichte van Fibre Channel-systemen.

1 Gb Ethernet is een volgroeide, algemeen bekende technologie die minder complex is dan de Fibre Channel-technologie.
Ethernet-hardware is voordelig en snel verkrijgbaar.
Algemene vertrouwdheid met Ethernet-technologie kan helpen de trainingstijden en -kosten te reduceren.
MD3200i-opslagsystemen zijn volledig gekwalificeerd voor gebruik in gevirtualiseerde toepassingsomgevingen met VMware® - en Microsoft® Hyper-V™ -software.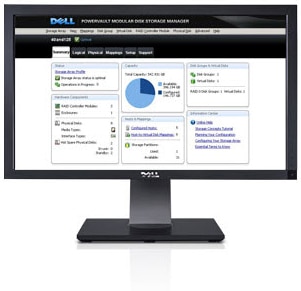 Systeembeheer is eenvoudig
De MD3200i/MD3220i-arrays worden beheerd met MD Storage Manager-software van de volgende generatie, een intuïtieve, gebruiksvriendelijke clientgebaseerde Java-toepassing.

Twee verschillende beheerpaden bieden eenvoudige gebruikersinteractie, ook voor degenen die alleen basiskennis van opslagsystemen hebben.
Met de vensterfunctie voor ondernemingen kunt u meer systemen via één interface controleren.
Wizardgestuurd arraybeheer helpt het configuratieproces te vereenvoudigen.
Software detecteert, en waarschuwt u voor, eventuele problemen en start een automatische Recovery Guru (Herstelgoeroe) om te helpen de problemen op te lossen.
Behaal nieuwe niveaus van flexibiliteit en schaalbaarheid
Met de MD3200i/MD3220i-arrays kunt u onderdelen combineren om een optimale opslagomgeving met gelaagde gegevens te creëren.
Implementeer tot 96 harde schijven door gewoon PowerVault MD1200- en/of PowerVault MD1220-behuizingen achter MD3200i-arrays aan te sluiten. Dit betekent dat u uw systeem geschaald kunt uitbreiden met een combinatie van zowel 9 cm (3,5") als 6 cm (2,5") harde schijven.
In systemen met twee controllers kunt u extra opslagbehuizingen aansluiten zonder het systeem af te sluiten.

Houd gelijke tred met voortdurend toenemende prestatievereisten
De MD3200i/MD3220i-arrays bieden een uitstekende prijs-prestatieverhouding.

Vier iSCSI-poorten per controller bieden een doorvoer die tweemaal hoger is dan die van vorige Dell 3000i iSCSI-arrays.
De hogere cachegrootten tot 2 GB per controller beantwoorden aan de behoeften van grote databasetoepassingen.
SSD-ondersteuning maakt het systeem optimaal geschikt voor de meest veeleisende I/O-toepassingen.
Optionele gegevensbescherming
De optionele functies voor gegevensbescherming van de MD3200i/MD3220i bestaan uit snapshots, kopieën op virtuele schijven en zelfcoderende schijven met Secure Erase.

SnapshotsElke virtuele schijf biedt ondersteuning voor maximaal acht snapshots, met in totaal 128 snapshots per systeem. Deze worden meestal gebruikt als gegevens in de tijd dienen te worden "bevroren".

Virtual Disk CopyVirtual Disk Copy (een kopie van een virtuele schijf) is een volledige replicatie van een bestaande virtuele schijf op een gewenst moment, vaak gebruikt voor besluitvormingsondersteuning en voor het testen van ontwikkelde toepassingen.

Zelfcoderende schijven (self-encrypting drives) Als een zelfcoderende schijf, die gegevens die naar schijf worden geschreven codeert en gegevens die van de schijf worden gelezen decodeert, wordt uitgeschakeld of verwijderd, wordt die "vergrendeld" om toegang door onbevoegden te voorkomen.